We supply events and parties such as festivals and stag do's.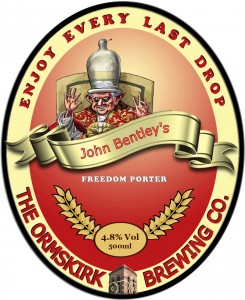 Stag Do Beer – Designed In-House
You tell us the theme / style / personality of the event and we will work with you using our in-house design team to personalise not just the beer labels, with photos and jokes, but even the type of beer you want.
The Ormskirk Brewing Company (OBC) just supplied 4 lines of carefully crafted and matured Real Ale to a Stag Do event in Gloucestershire.
The Best Man explained the "in-jokes" about the Stag, which in this case was themed around the Pope.  Here are 2 of the beer labels we designed and supplied:
We can even provide a professional photographer services for the event so that whilst the group is enjoying the fine produce a Sober Photographer is discretely shooting away providing top quality images.  Don't let that stop the blurry drunken snaps of the party but do enjoy the atmosphere and memories days later with crisp shots full of character.
Get in touch on the Contact page to book your event.